Welcome to
the magic world of lighting.
If you have spent some time on pinterest searching for inspiration for your wedding decoration, then it is very likely that you have already been captivated by some amazing wedding lighting ideas posted there. Either way, you can find out here how proper lighting can elevate your wedding party atmosphere and enhance the beauty of your venue.
Create your own fairytale-party scenery using some amazing lighting applications, such as moving spotlights for the dancefloor, String lights, fairy lights, up-lights and chandeliers for your venue decoration and ambience.
View more below
Club / Festival lights
So, take a moment to imagine being into your own open air nightclub with all these spotlights aiming the sky and painting your dancefloor, living the moment with your loved ones. Of course, we are talking about your wedding party.
Setting the mood is key to having a great one and that depends mainly on two things: Great music and great lighting. Both complement each other affecting your mood and feelings.
Using the latest technology combined with the aesthetically driven display of our lighting set-ups and dj booths, we can create impressive lightshows to lift the party energy and wow your guests.
Our club lighting can blend exceptionally with any wedding style and wedding decoration, using soft colour palettes and aesthetically pleasing programming for every stage of your reception such as your dinner,first dance and party.
String lights & Fairy lights
Dreamy ambience & elegance, words that can perfectly describe these two wonderful wedding lighting applications.
String lights is an exceptional decorative element providing warm and romantic lighting for your reception. They are ideal in such cases where the reception space is not illuminated at all or the existing lighting is either harsh or cold.
Fairy lights are hundreds of twinkle lights that can be used to decorate anything you can imagine. You can create a fairy lights canopy above the dance floor and tables, wrap them around trees, use them as a backdrop for your bridal table, creating a true fairytale setting.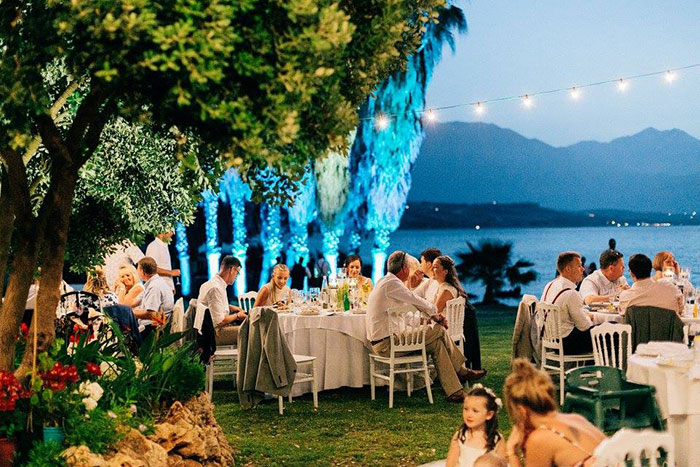 Decorative Up-lights
Up-lights is a magnificent way to highlight the characteristics of your venue which make up your wedding scenery. Elements such as interior and exterior building design(e.g columns & walls), trees and any other special details can be properly illuminated to keep them visible and lively during the night.
Most of the times we use white or amber colours to keep it simple & elegant and blue or magenta for a mysterious or sweet vibe. Of course, you can choose your favourite colour(s) or the ones that go with your decoration.
We use wireless technology to keep it neat and safe.
Chandeliers
If you're looking to add a few glamorous accents to your big day,then chandeliers are an excellent choice for that.
They come to a wide variety with crystal chandeliers and beaded chandeliers to be the most favoured for wedding decorations.
Crystal chandeliers offer a romantic & elegant essence, while beaded chandeliers are exotic & luxurious.
Chandeliers can work well with any wedding styles like classic,romantic,boho and luxury weddings.
You can envision them at almost any place you wish to highlight, like the bridal table,dinner tables and dance floor. They also work well together with other lighting installations, such as fairy lights,string lights and hanging floral installations.